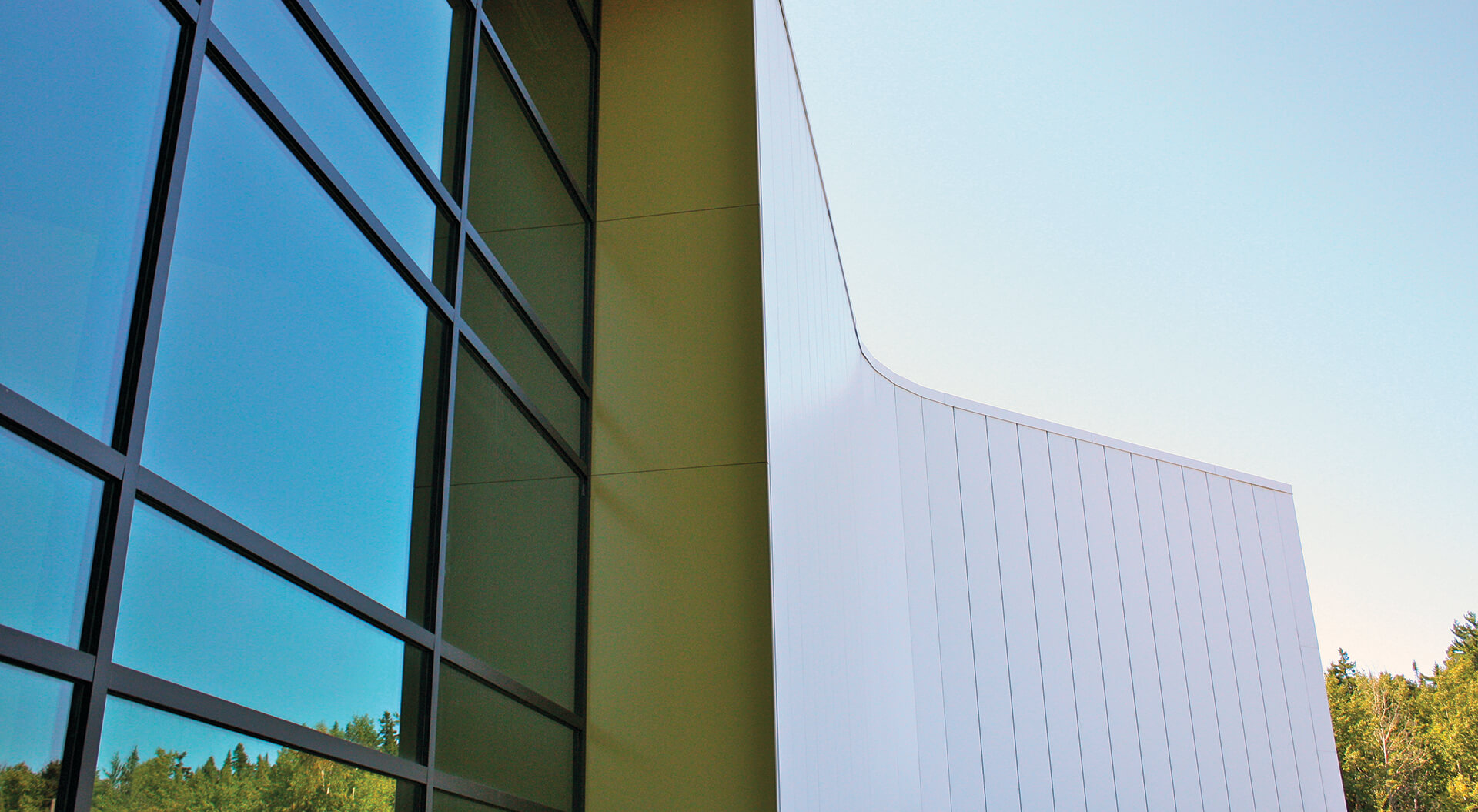 Centre spécialisé de technologie physique du Québec
The brand new Centre spécialisé de technologie physique du Québec stands in a previously unexploited environment in the heart of a new and rapidly developing industrial park located in La Pocatière. Specializing in the field of component design and prototyping for the technology industry, the CSTPQ needed to establish head offices that reflected its image by combining innovation and creativity. On a site surrounded by steep topography and bordered by mature trees, the building evokes the inherent duality between the purity of nature and the precision of technology.
The in-depth architectural exercise, hinging on a subtle balance between full and empty spaces, lines and volumes, and on the juxtaposition of contrasting colours and textures, was given concrete expression in a building that asserts both its corporate and industrial identity. The offices and laboratories are centralized in the southeast section and benefit from openings that provide views while favouring natural light. The mechanical engineering department, laser welding cells, anechoic room and the building's imposing mechanics occupy the northeast area, thus respecting the "ergo-spatial" comfort and safety standards required for this type of technological equipment.

Recipient of the 2nd Jury Prize in the Industrial Building – $5M or more category at the 2011 Awards of Excellence in Architecture presented by the Ordre des Architectes du Québec, the project was described by the jury as a "contrast of colours and materials reflecting the spirit of technological innovation, the product of scientific rigour and unbridled creativity."

data sheet
location
La Pocatière, Canada

year
2010

program
Offices, laboratories, workshops, warehouse, technical spaces

category
Architecture, interior design

area
2,200 m2

collaborators
Charron (architects, in consortium)
Roche / Sopax (structural engineers)
Techniconfort (electromechanical engineers)
Éco op (LEED coordinator)
Kamco Construction (general contractor)

photographer
Stéphane Groleau

recognitions
Association Québécoise de la Maîtrise de l'Énergie Energia Awards, winner in the "New building" category, 2012
Ordre des architectes du Québec Awards of Excellence, finalist in the "Institutional building, $5M or more" category, 2011
Ordre des architectes du Québec Awards of Excellence, Youth Vision Award, 2011
Ordre des architectes du Québec Awards of Excellence, People's Choice Award, 2011