Jonathan Bisson becomes a Fellow of the RAIC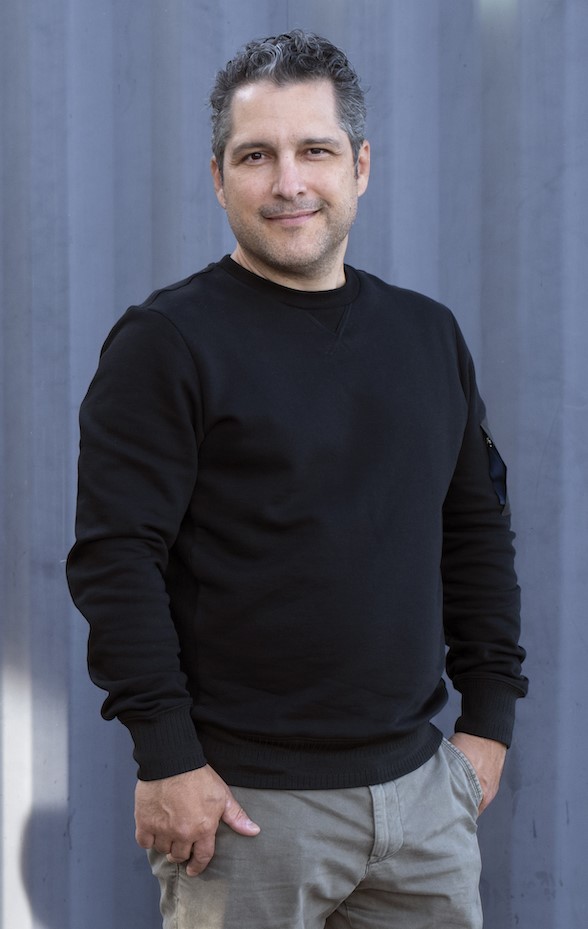 CIRCUM is pleased to announce that Jonathan Bisson has become a fellow of The Royal Architectural Institute Of Canada | L'Institut royal d'architecture du Canada.
A valuable recognition that consolidates his remarkable contribution to architecture in the country.
Congratulations Jonathan! Well deserved!

For more information: https://raic.org/news/raic-college-welcomes-26-new-fellows
read more
2021.10.27 Notice of Appointment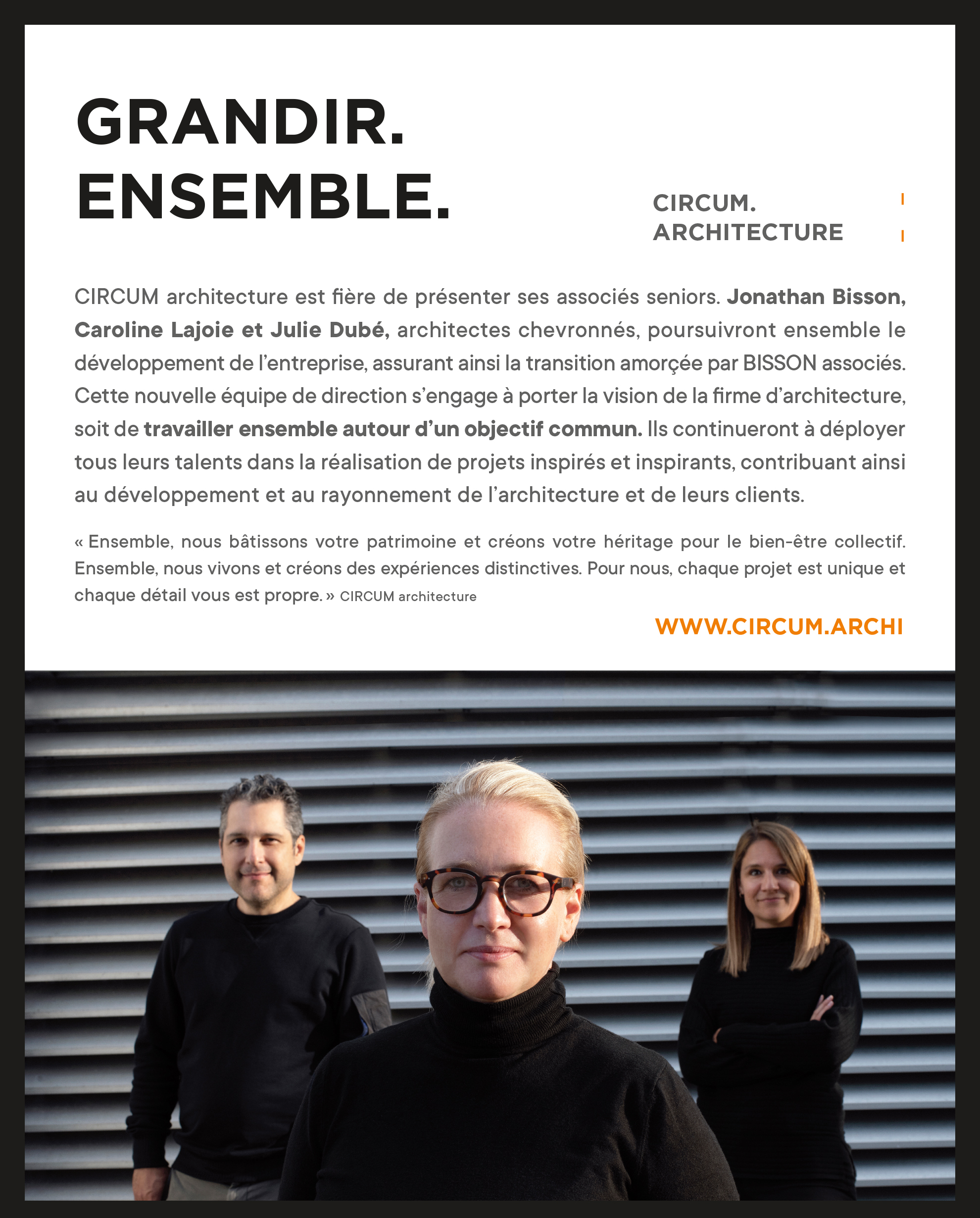 Ushering in a new era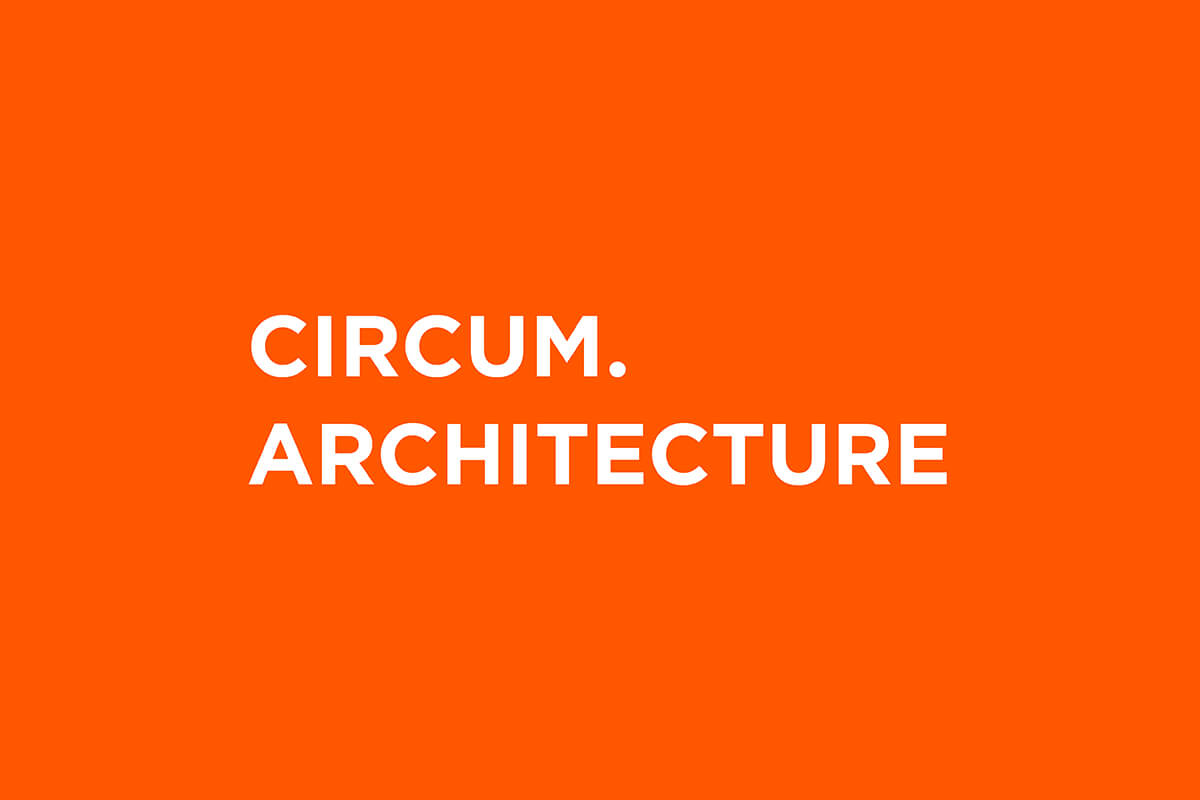 Bisson associés unveils its new name, new brand image and new website: Circum architecture.
A Latin word meaning around, Circum evokes the strength of circularity. This strength is reflected in its new identity through its collaborative culture and its work philosophy. In using this Latin word, whose etymology dates back more than 2,000 years, the firm wants to clearly state its commitment: to implement creative strategies with its business partners in order to meet client objectives and develop efficient, inspiring and sustainable spaces.
Developed by Paquebot Design (graphic design) and Sébastien Roy (web development), this complete overhaul places the human experience at the heart of the firm's vast range of design and construction services.
"With our new identity, we wish to advocate and foster interdisciplinarity and multilateral collaboration. Through exchanges and the networks within which we work every day, we want to provide personalized services and a distinctive customer experience that is more in line with the workshop-boutique approach."
Jonathan Bisson, architect and senior partner.
The Cartier-Roberval archeological site bears witness to the first chapter in the settlement of a French colony in North America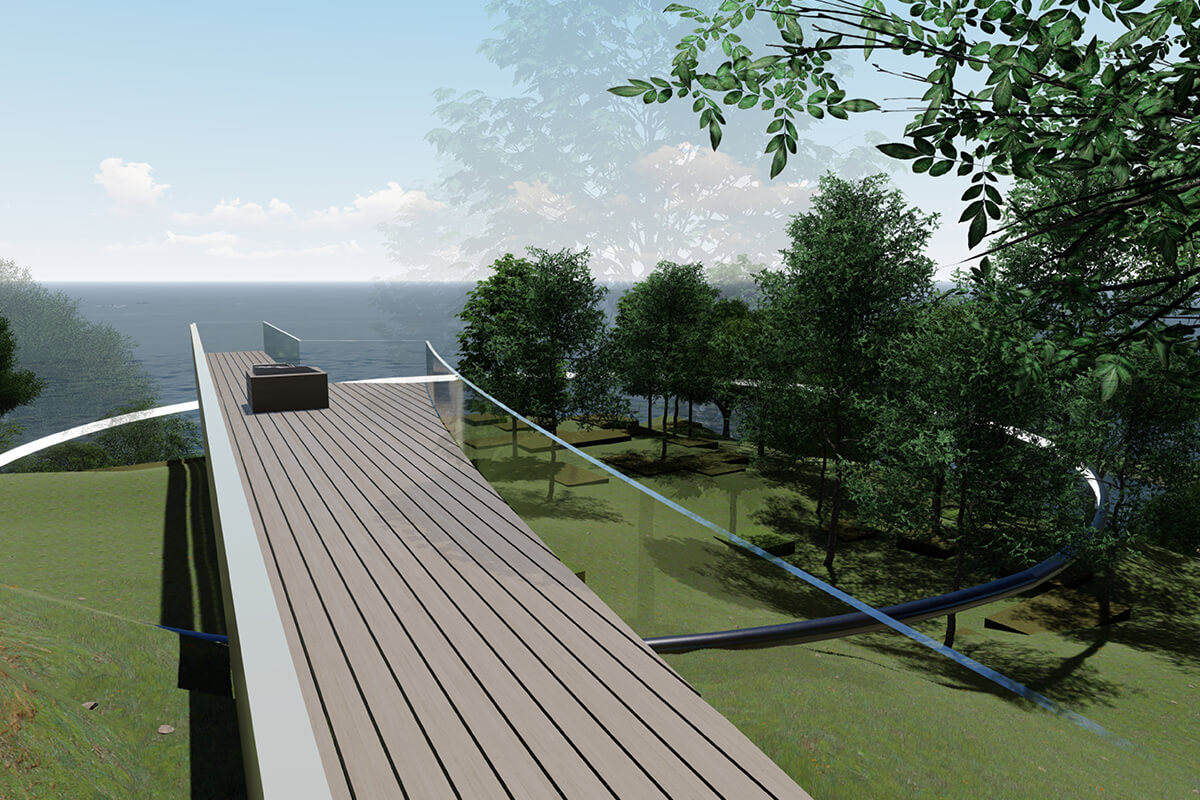 Established at the confluence of the Rivière du Cap-Rouge and the St. Lawrence River, the first French settlement in North America enjoyed a strategic location, the sheer scale of which is still perceptible today. On the banks of the water route (lower fort) and perched on a promontory (upper fort), the Cartier and Roberval buildings met all the needs of this first French fortified village, which was erected between 1541 and 1543. It was here that the everyday lives of over 500 men and women played a pivotal role in this important milestone in history and today the site embodies the spirit of this place steeped in emotion. Bearing witness to this new prologue, the research conducted by archaeologists since 2005 has provided the scientific validation of an assumption that had been maintained for decades: Cartier and Roberval did indeed establish a French colony here in 1541!
Today, our team is proud to unveil the enhancement project that will allow citizens to visit this exceptional site while ensuring its conservation and transmission for future generations. Rooted in Iroquois and French human stories, the project will offer an experience inspired by an encounter between the natural landscape and built environment and dialogue between Aboriginal and European cultures of the 16th century as well as the scientific community. The site itself will feature a service building, a promenade and a walkway, perpendicular to the existing railway bridge, which will stretch out above the vestiges and promontory to provide visitors with a better understanding of the history of this unique place and offer a 360-degree view of the magnificent scenery.
Work will begin in spring 2021 and be completed by the fall.
Museums do a world of good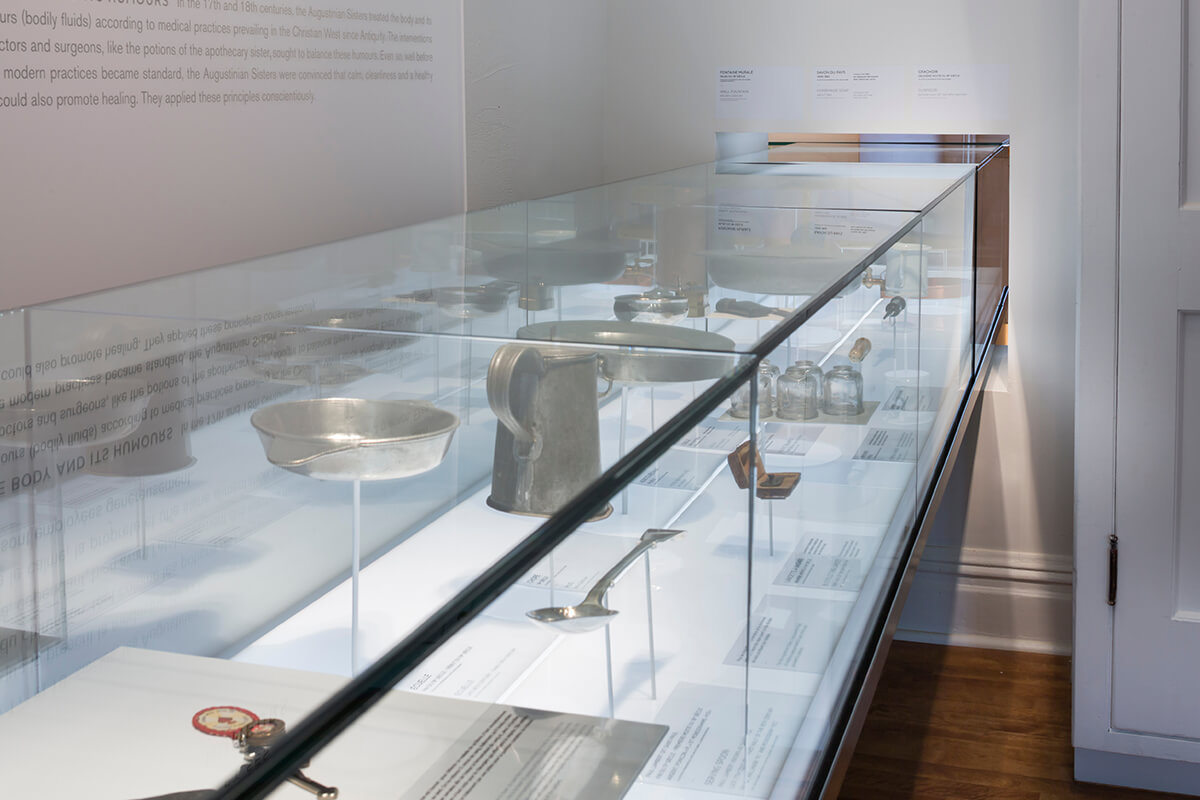 Museums surprise us, affect us, amuse us, calm us, inform us and, more importantly, inspire us. Providing spaces for contemplation, relaxation, reflection and interaction, they play an active role in our day-to-day well-being. According to their specialization, museums open up new perspectives on yesterday's world and today's society, offering memorable experiences that enable us to better take our future in hand.
As museums prepare to once again close their doors for the health reasons we are all aware of, we will have the pleasure of sharing six key achievements that have marked our history. A series to be discovered on our social media over the next few weeks.

The Grand Marché de Québec takes home five awards!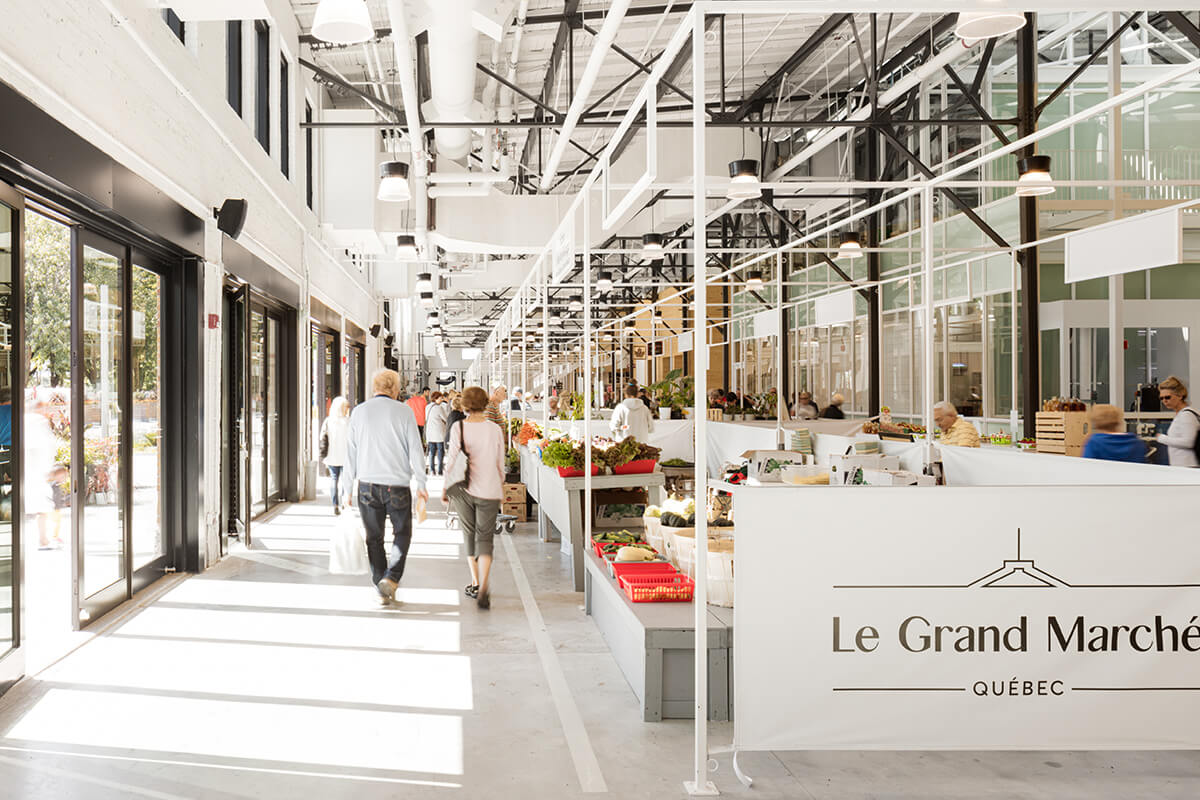 Located in the building which formerly housed the Pavillon du commerce at ExpoCité, the Grand Marché de Québec has new become a unique culinary destination, a gathering place that embodies the values of the city of Quebec. Faced with such a considerable challenge, the team of architects from Circum Architecture and Atelier Pierre Thibault joined forces to develop a strategy to restore and upgrade the existing building, one that would subtly highlight the steel structure, wooden ceilings and original brick walls.
The project has won a total of five awards of excellence in architecture and was twice selected as a finalist:
Space Wizards Awards, Winner in the "Commercial complex" category.
Asia Pacific Design Center (APDC), China

Mérites d'architecture de la Ville de Québec Awards.
Winner in the "Municipal building – Renovation and/or expansion" category

Ordre des architectes du Québec Awards of Excellence.
Winner in the "Heritage enhancement (repurposing)" category

Grands Prix du design Awards.
Winner in the "Commercial spaces over 5,400 ft2" category

Grands Prix du design Awards.
Winner in the "Valorization of wood in interior design" category

CECOBOIS Awards of Excellence.
Finalist in the "Interior design" category

MIPIM Awards.
Finalist in the "Best refurbished building" category
Congratulations to the entire team!
A day to celebrate the outstanding contribution of our female team members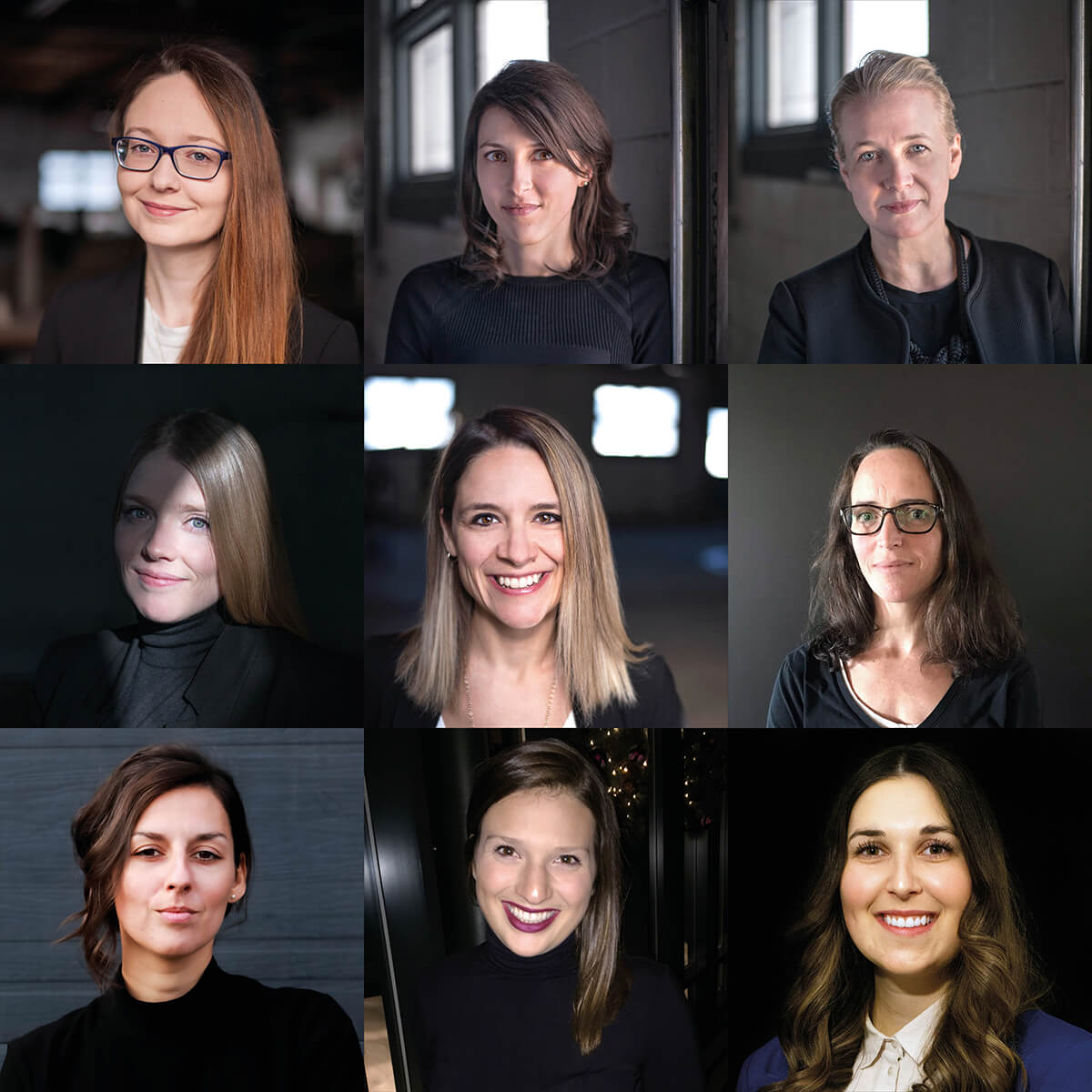 Today, 8 March 2021, is International Women's Day and we therefore wish to acknowledge the fundamental contribution and the achievements of the exceptional women who account for more than 53% of our team. Designers, technicians, experts, museologists, scenographers, strategists and works supervisors who all strive on a daily basis to develop and promote architecture, our accomplishments and our team.
Humaniti, a vertical community project in Quebec City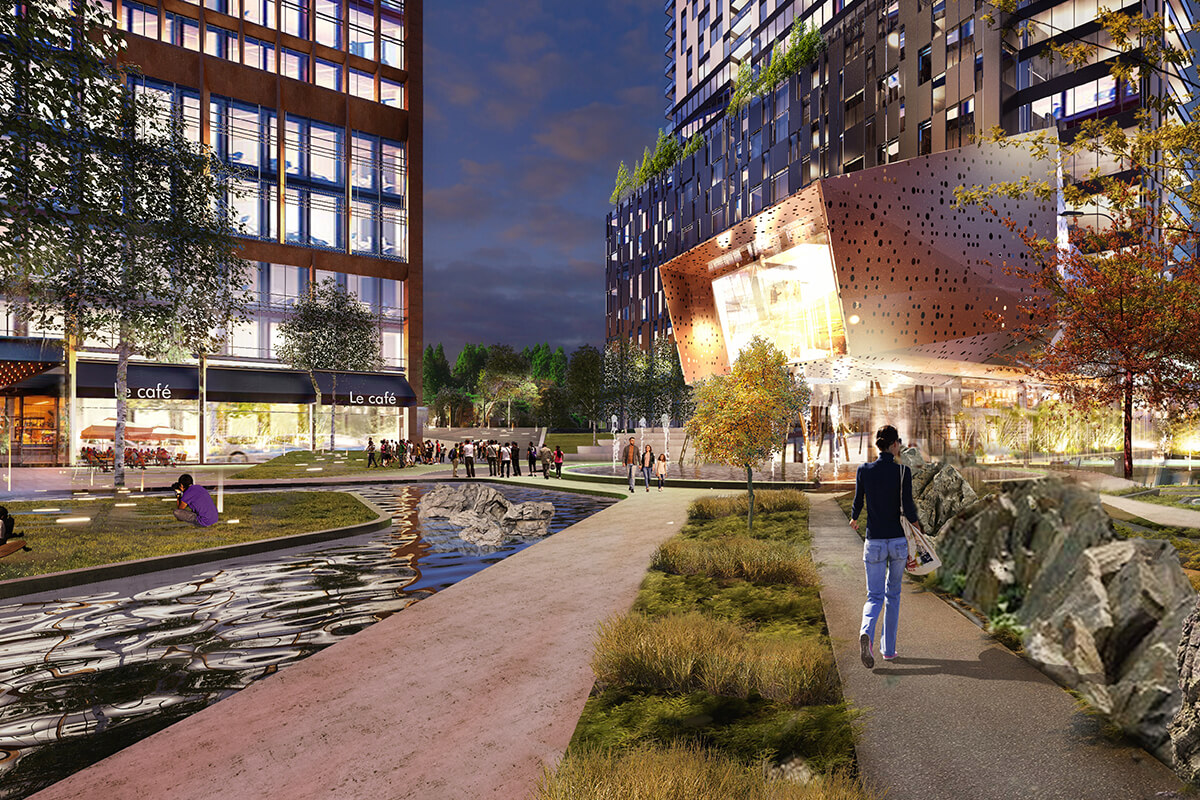 We are pleased to unveil the first sketches of HUMANITI Québec, a vertical community project inspired by Quebec City's roots and developed by COGIR Real Estate.
A few weeks ago, we began the preliminary studies with NEUF Architect(e)s in preparation for the creation of a carefully thought-out living environment on the site of the former Auberge des Gouverneurs, at the intersection of Boulevard Laurier and Avenue de Lavigerie. This major real estate project is part of the City of Quebec's Vision d'habitation 2020-2030, which aims to create social and affordable housing, and will consist of four mixed-use and connected buildings which will offer a new community experience. Through its high-quality architecture, HUMANITI Québec will meet the needs of Quebec City residents while fostering healthy living and public as well as active transportation.